Before Riverdale's recent cancellation, Cole Sprouse told GQ that he and the rest of the cast were already ready to "wrap it up." But this being Riverdale, don't expect a typical farewell in the seventh, final season.
At the end of season six, a surprising supernatural shift in the series brought another, even bigger twist by sending everyone back to a more backward and simpler time. Yes, the dark adaptation of the Riverdale source material has now come full circle by ending on a retro note that encapsulates the 1950s setting that the franchise is best known for.
In May 2022, CW president Mark Pedowitz suggested that this might be the perfect time to end the show:
"I'm a big believer in trying to give shows that have had long runs a proper break-up. We had a long conversation yesterday with Roberto , who's excited about the news, and we're going to treat the show the way it deserves… We want to make sure , that it's going in the right direction. I think they also felt that seven years was the right amount. As a fan, I want to do what's right for the show."
Riverdale Season 7 Potential Release Date: When Will It Return?
The CW has yet to reveal when the final season of Riverdale will begin, but you don't have to be a witch or even an FBI agent to figure out when the new episodes are likely to arrive.
Aside from seasons one and five, which were affected by the pandemic, every season of Riverdale has started around October or November. It is safe to assume that the final chapter will also begin in October or November 2022.
Riverdale Season 7 Cast: Who Will Be In It?
Expect all of these Riverdale residents to return in the final season, including:
• KJ Apa as Archie Andrews
• Lili Reinhart as Betty Cooper
• Camila Mendes as Veronica Lodge
• Cole Sprouse as Jughead Jones
• Madelaine Petsch as Cheryl Blossom
• Mädchen Amick as Alice Smith
• Casey Cott as Kevin Keller
• Charles Melton as Reggie Mantle
• Vanessa Morgan as Toni Topaz
• Drew Ray Tanner as Fangs Fogarty
• Erinn Westbrook as Tabitha Tate
Showrunner Roberto Aguirre-Sacasa suggested in an interview with Decider that we could also see the return of some long-lost cast members to make one last appearance:
"Hopefully season seven, which is our swan song, we'll see people we haven't seen come back to Riverdale in good, juicy story arcs. I'm kind of hoping it's a celebration and a reunion for everyone who's been a part of Riverdale and so I've worked hard to make the show as special as it was. You know, again, a million things to sort out, but I hope more than anything that the people we haven't seen come back."
And yes, that could mean Jughead's dad, FP, could be heading back to town as well.
"Listen, I would love, love, love, love, love to have Skeet [Ulrich] back," Aguirre-Sacasa said. "I would, and I know everyone would, so hopefully we can do that this season.
And then of course there's Sabrina. After her season six cameos, it looks like the popular teenage witch may be making a comeback once her own show ends.
"Yeah, he has to come back," Sabrin's Kiernan Shipka told Collider.
"I think they're going to need her help again. For fun, I'd say, [they should] lean into the chaos — no pun intended — as much as they can, work hard and believe it's all going to work out. , but at the end of the day, really probably again call Sabrina. I think they're going to need her to be quite honest."
Riverdale Season 7 Plot: What Happens?
Showrunner Roberto Aguirre-Sacasa hinted during his aforementioned chat with Decider that the supernatural events of season six will definitely affect the final story, even though most of the characters have pretty much forgotten everything that happened with Percival:
"It's not a hard, complete break with what happened before. Jughead remembers everything that happened. And I think our characters, whether they're conscious or not, have an emotional memory of what they've been through."
"So it's again, and I tried to say it after the Riverdale event, Riverdale is in continuity. It's not five episodes that exist outside of continuity. And I think everybody saw that it was really so committed to Riverdale, and it was so he married season six. So season seven, in my opinion, is not the beginning of a new continuity. It's still in continuity."
When asked about the future of popular couples like Barchie, Choni and Jabitha, Roberto hinted that change is in the air after this big twist: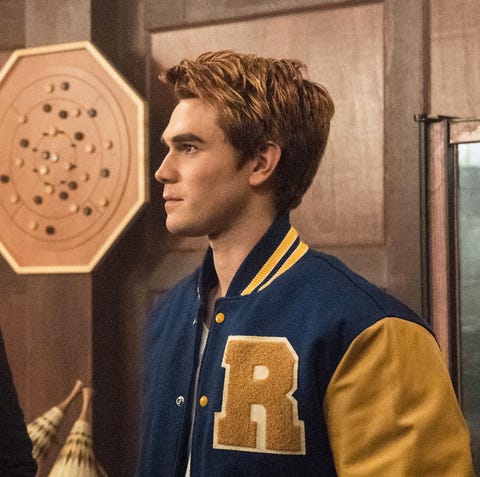 "How can I say this? Some of the couples that are highlighted in the finale will continue. Some will evolve into new things and be new… There will definitely be new couples as well."
This is especially true for queer characters like Kevin and Toni, who will now have to navigate their sexuality in a much less permissive time period:
"It's going to be very different in the '50s. They're going to be closed off. They're going to have to find different ways to connect with each other. So that's actually one of the exciting stories for us, how are our characters that we've met in the quasi-present day, how are we going to go back and deal with the problems of Euphoria in the 1950s or the reality of Euphoria?"
Don't expect this big twist to be wrapped up in just one episode.
"We haven't ironed it out," remarked Roberto. "I will say that on the last day of shooting I was talking to Lili [Reinhart] and she was like, 'Oh, it's so exciting to be in the 50s.' And I say, 'Yes, take a seat.' And she said, "Are we going to be here long?" And I'm like, 'Yeah, we're going to be here for a while.' So I'll say it won't be one and done, that's for sure."
For more updates and latest information visit Gizmotable.