Love Live! Nijigasaki High School Idol Club is a multimedia spin-off project that was created in Japan. It is based on the Love Live! series as well as the Love Live! School Idol Festival game series. It was first shown to the public in 2017 under the name "Perfect Dream Project," and it was originally developed to be a component of the game Love Live! School Idol Festival All Stars. They are a collection of individual school idols that compete with each other while still working together to keep their school idol club alive. This is in contrast to the previous groups from the franchiseand ,'s Aqours, who were both groups that were part of the franchise. They form what is known as the Nijigasaki High School Idol Club when they are all together.
Alongside the's and the Aqours, the Love Live! School Idol Festival All Stars spin-off video game includes them as playable characters. They also make an appearance in the Love Live! School Idol Festival card game as SR-rarity cards. Before the girls were added to the game, they were first divided into three groups of three and tasked with beginning activities in three distinct apps: the Dengeki Online website (Kasumi, Karin, and Setsuna), the Famitsu App website (Ayumu, Ai, and Rina), and the game's official website. Each group of three girls was responsible for a different app (Emma, Shizuku, Kanata).
The Nijigasaki High School utilizes each location as a distinct room or office for the school's branch operations. After some time, they were formally divided into three separate groups known as DiverDiva, A'Zu'Na, and Qu4rtz. Bandai Namco Filmworks, previously known as Sunrise, adapted the manga into an anime television series that ran from October 2020 all the way through December 2020. Between the months of April and June of 2022, a second season was broadcast.
Nijigasaki High School (虹ヶ咲学園, Nijigasaki Gakuen) is situated in Odaiba, Tokyo. The school's reputation may be attributed to the liberal education it provides as well as the variety of subjects offered. The plot of the movie revolves on the members of the school idol club in Nijigasaki, who collaborate as a group in order to perform as single idols, and their efforts to thwart the dissolution of the club. As the plot develops, we see a greater number of young women become involved in the activities of the club.
Story plot of episode 9:The Sky I Can't Reach.
The second annual School Idol Festival was a resounding success and has come to an end. But then, Lanzhu reveals to the girls that she is going to give up her role as a school idol and go back to Hong Kong. Mia inquires as to the reason for her departure, but Lanzhu just responds that she has accomplished all that she set out to do.
Review of episode 9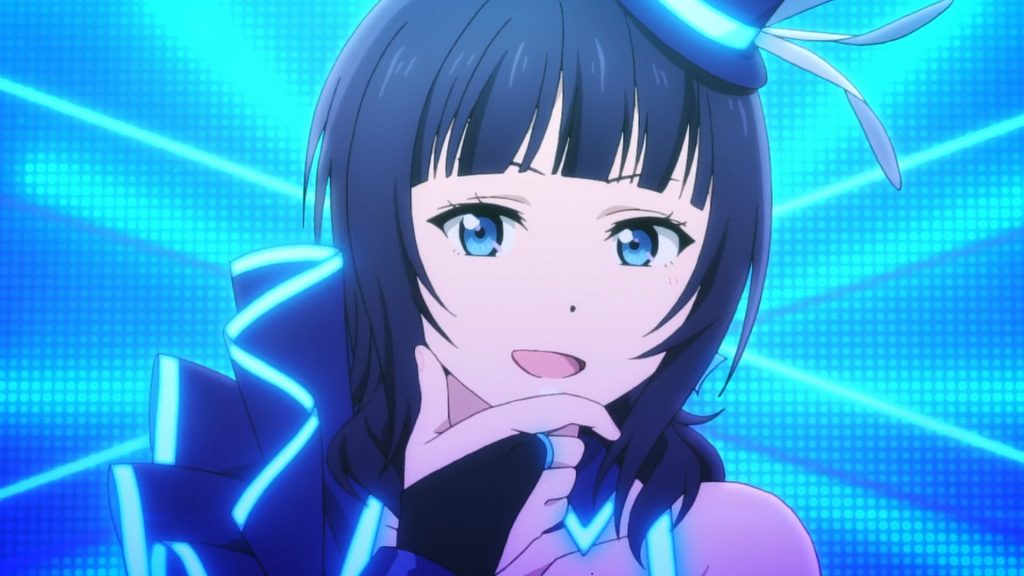 Even though Love Live! will never reach that level of radicalism, I can understand the thought that Mia does not need to worry about producing music to satisfy everyone or to attain some idealized concept of success or renown. That she has the desire to sing is the most important thing.
And oddly, this is the song that she is singing, which is something that probably would have been a massive smash around the year 2011. It's not hard for me to see the thumbnail for this music video appearing on the sidebar of YouTube, crammed in between "Call Me Maybe" and "Fireflies," with 7 million views and humiliating cat face emoticons in the video title. Although it's possible that some listeners could have trouble understanding the entirely English lyrics, the music itself is rather good. Although Sh Uchida, who voices Mia, is competent in English, it is evident that the person who composed this song is not. As a consequence, there is a lot of weird syntax and unusual meters, which you will either find lovely or cringe-inducing, or probably both.
You already have an idea of what I'm talking about if you've ever listened to English cover versions of anime theme songs on YouTube. When combined with the DeviantArt cat sweatshirt that Mia wears during much of this, it results in a production that is undeniably uncomfortable; yet, I find that this just serves to add to the show's overall appeal. The character-focused graphics do a lot to sell me on Mia's resolve in this episode in the same way as Shioriko's did. If I had to choose between this and "Eutopia," I'd probably go with this one as my favorite music from this season so far.
Which is crucial because this is another another conflict that has been hindered by the narrative framework that has been present for the whole of this season. I enjoy a lot of the concepts that went into creating both Mia and Lanzhu's personalities in this story, and through sheer grit and determination, it mainly works; yet, I found that I was allowing things a lot of leeway as they progressed. Because I can absolutely picture how Lanzhu's HBIC energy can both captivate and rub people the wrong way, I can understand her reasoning for why she needs to stay solo rather than risk damaging more friendships by joining the School Idol Club. Like yeah, I can absolutely imagine how Lanzhu's HBIC energy can both captivate and rub people the wrong way. The problem is that we never really see that happen in the show itself, as Lanzhu has had maybe two meaningful conversations with the rest of the cast since she arrived, in which basically everyone other than Kasumin was instantly ready to welcome her into Yu Takasaki's harem. Since Lanzhu's arrival, the show has had maybe two meaningful conversations with the rest of the cast. This probably made more sense in the mobile game's version of events, where I gather Lanzhu was a more antagonistic force than she is here, but as things stand, the audience will have to do a lot of the heavy lifting to make this conflict work. I imagine this made more sense in the mobile game's version of events.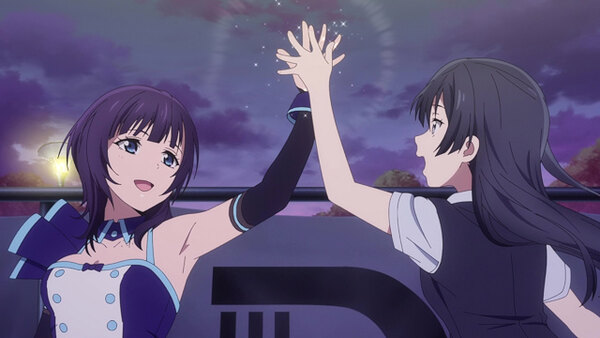 Despite all that has been mentioned, Mia and Lanzhu may still benefit from watching this episode on its own. Even without a complete knowledge of how they met or what led to Lanzhu's self-isolation, those bumps in the road may occasionally be smoothed over with the appropriate blend of music and sincerity. They do make better use of the Nijigasakids here, allowing just a couple of key members to be the difference makers in Mia and Lanzhu's stories while the rest play support roles. And while the cast is still too large to stay upright under its own strength, they do make better use of the Nijigasakids here.
The fact that Rina is the one who assists Mia in overcoming her own worries is both endearing and appropriate, given that Rina herself had difficulty expressing who she was in the first season. It's also very cute that Emma and Lanzhu are connecting over the fact that they are both the alarm clock for their respective partners. It seems like we will be going back to some good old-fashioned hijinks in Love Live! now that the major character drama has been settled, and I won't say no to that at all.
For more information, visit Gizmotable!