When CBS All-Access first began streaming original programming in August 2019, the series "Why Women Kill" quickly became one of the streaming service's most popular offerings. The streaming service, which has now been renamed Paramount+, announced in October 2019 that it will be continuing the program for a second season just as the last few episodes of the first season were being made available on the site.
The first season of the series, which was created by Marc Cherry ("Popular," "Desperate Housewives"), centered on three different women who were living in three different time periods — 1963, 1984, and 2019 — but they were all connected by the fact that they had lived in the same mansion located in Pasadena, California, and eventually became murderers.
The first season stars Ginnifer Goodwin (1963's Beth Ann Stanton), Lucy Liu (1984's Simone Grove), and Kirby Howell-Baptiste (Taylor 2019's Harding) as the three primary people in the tale. Each individual had a distinct purpose for murdering someone dear to them, and during the season's length, the winding road that tied them together was exposed.
The fact that production on the second season of "Why Women Kill" was momentarily halted due to the COVID-19 epidemic probably won't come as a surprise to the readers. According to Deadline, on November 11, 2020, the series temporarily halted production along with three other projects that were filming at CBS Studio Center as a result of a positive COVID-19 test among a member of the show's shared production team. This action was taken in conjunction with the CBS Studio Center. It would seem that production began around or on November 13, much as it did for another program whose production was impacted by the delay. Casting announcements for the next season have been consistently posted online throughout the winter months.
What is the story of Why Women Kill?
Beth Ann, Simone Grove, and Taylor Harding are happily married women who live in different eras – the 60s, 80s, and the present, respectively. All of them are coincidentally inhabitants of the same home at various moments in time. But the real estate is not the only similarity that they share. All of them enjoy a very pleasant relationship, but at some point in time, there is a breakdown in communication, and their link with their significant other breaks apart. What comes next is cheating, which is the main theme of the show.
The three women are not only from a different era but also play radically different roles in society. But, surprisingly, the main characters react to cheating in a similar way, even though more women are working and the pay gap between men and women is getting smaller because of it. The series dives further into this and presents fascinating topics that make it stand out. If you are considering about viewing the program now, here's all the streaming information you will need.
'Why Women Kill' is a dark comedy anthology series that revolves around the lives of women from different generations struggling with timeless marital conflicts that threaten to put their happy marriages at risk. The series is headlined by Lucy Liu, Ginnifer Goodwin, Kirby Howell-Baptiste, and Alexandra Daddario. Will women from various times react in a similar manner to this question? Or will some people have the ability to cope with these problems in a more effective manner than others? Are you interested in finding out more about the show's idea or where you can see it online? You are at the proper location at this time. Everything that you need to know is included here.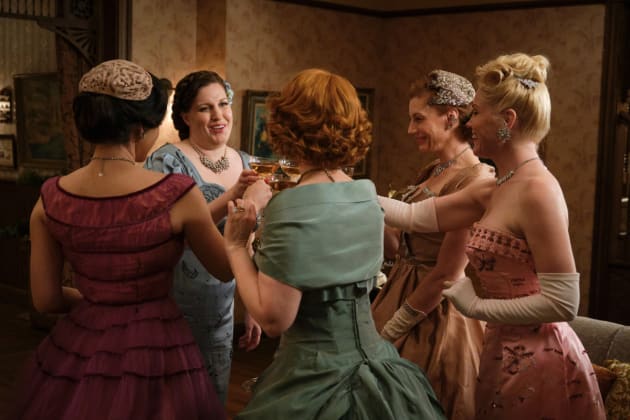 Is Netflix showing Why Women Kill?
As of right now, "Why Women Kill" is not on Netflix. You can watch "Amar," "Dark Desire," or "Easy" if you have a subscription to the streaming giant.
Does Amazon Prime have Why Women Kill?
"Why Women Kill" is a video-on-demand show that you can watch on Amazon Prime. You can buy the series if you go here. If you have a Paramount+ account, you can also stream the dark comedy anthology series on the platform.
Does Hulu have Why Women Kill?
"Why Women Kill" is not yet available on Hulu, so users will have to look for it elsewhere. People who like this show and want to watch something similar can stream "Mistresses" or "My Sordid Affair."
Where do I watch Why Women Kill online?
You can watch "Watch Why Women" on VOD sites like FandangoNow, Vudu, Google Play, Microsoft Store, YouTube, and iTunes. The dark-comedy anthology series is also available on AppleTV and Paramount+.
How to watch Why Women Kill without paying?
Both Paramount+ and AppleTV offer a free trial of seven days. On these two platforms, you can watch the show for free as long as you do it during the trial period. But we tell our readers that they should always pay for online content they want to read.
Trailer of Why Women Kill 2:
For more information, visit Gizmotable!